Tokyo, December 11, 2019 — Kawasaki Heavy Industries, Ltd. announced today its official naming and launch at Kobe Works of the SUISO FRONTIER (Kawasaki hull no. 1740), the world's first liquefied hydrogen carrier.
This vessel was developed to provide a means of transporting liquefied hydrogen at 1/800 of its original gas-state volume, cooled to –253°C, safely and in large quantities over long distances by sea. Kawasaki plans to install a 1,250 m3 vacuum-insulated, double-shell-structure liquefied hydrogen storage tank, currently being manufactured at Harima Works, on the ship and complete the vessel's construction by late 2020. Once complete, the SUISO FRONTIER will be used for technology demonstration testing in Japanese FY 2020 aimed at the establishment of an international hydrogen energy supply chain*1 in which liquefied hydrogen produced in Australia will be shipped to Japan.
Hydrogen is gaining popularity as a key next-generation energy source to combat global warming. It does not emit CO2 or other greenhouse gases during use, and expected applications include power generation, fuel cell vehicles and more. With the goal of making hydrogen just as common a fuel source as petroleum and natural gas, Kawasaki joined together in 2016 with Iwatani Corporation (Iwatani), Shell Japan Limited, and Electric Power Development Co., Ltd. (J-POWER) to form the CO2-free Hydrogen Energy Supply-chain Technology Research Association (HySTRA).*2 This organization has, with the support of NEDO,*3 been pursuing technological development aimed at building an energy supply chain enabling economical and reliable sourcing of hydrogen in large volumes. In addition to this latest liquefied hydrogen carrier, a liquefied hydrogen unloading terminal is being built in Kobe City, Hyogo Prefecture, and a brown coal gasification facility is being constructed in Australia. In addition, a consortium*4 comprising Kawasaki, Iwatani and J-POWER along with Marubeni Corporation and AGL Loy Yang Pty Ltd, was formed in 2018 and has received financial support from the Australian and Victorian governments to build a gas refining facility, hydrogen liquefaction & loading terminal and more.
Kawasaki is pursuing this hydrogen business as part of its efforts toward sustainable development goals (SDGs), carrying out development projects in every phase including production, storage, transportation, and utilization. In 1981, Kawasaki became the first Asian company to manufacture a liquefied natural gas (LNG) carrier, and now as the world's first company to complete a liquefied hydrogen carrier it will further its efforts toward achieving a Hydrogen Society.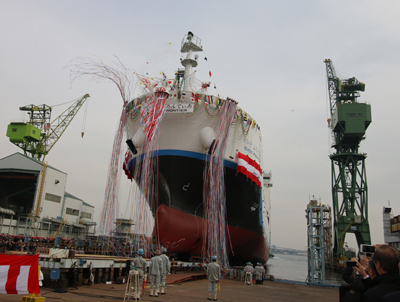 Supply chain demonstration framework

Specifications
Length overall
116.0 m
Length between perpendiculars
109.0 m
Molded breadth
19.0 m
Molded depth
10.6 m
Molded draft
4.5 m
Gross tonnage
Approx. 8,000 t
Tank cargo capacity
Approx. 1,250 m3
Propulsion system
Diesel electric propulsion
Sea speed
Approx. 13.0 kn
Capacity
25 persons
Classification
Nippon Kaiji Kyokai (ClassNK)
Country of registration
Japan
Ship owner
CO2-free Hydrogen Energy Supply-chain Technology Research Association (HySTRA)